Are you excited to start teaching in a new grade, classroom, or school? 

Are you spending your summer daydreaming of what the classroom will look like, only to start stressing when it comes to thinking about how the first two weeks of school will go?

Have you been teaching for a while and are looking to refresh your back to school season so that the rest of the year remains calm and successful?

Are you overwhelmed with the amount of things that are needed to get done before the children arrive? Don't know where to begin or what to prioritize first?

Walk into school on the first day feeling completely prepared and ready to greet the children. Know exactly how to launch the school year, so that not just the first two weeks are successful, but the rest of the year as well!
Setting Up Kids for Success is the course you have been looking for if…
✅ You are a teacher new to teaching or are changing grades, classrooms, or schools
✅ You are still looking for your first job but want to be ready for the moment you do start teaching
✅ You are a teacher who is tired of doing the same thing year after year and are looking for a refreshing start to the school year
✅ You have been scrolling on Pinterest non-stop all summer but haven't made a plan yet for the first two weeks of school

This course will
🤩 Help you plan out your classroom layout so that children can be as capable and independent as possible, as well as avoid traffic jams and unnecessary social conflicts
🥳 Help you plan and successfully introduce three critical routines to establish first thing with your class to reduce chaos and confusion
🤩 Help you create reliable classroom structure and a classroom management plan that keeps everyone's day running smoothly
🥳 Give you lessons and activities to use to teach children to actively listen in group settings
🤩 Give you specific strategies and ideas for building classroom relationships



In the end…
Setting Children Up For Success will fully prepare you for a successful start of the school year and beyond. 👍

Do you want your classroom to run itself? It doesn't just happen like magic 🤩! You need to start the year purposefully and systematically teaching students the expectations and routines… and we teach you exactly how to do this in our new course!


What's in the Course?
Session 1 - Welcome and Opening

Session 2 & 3 - Physical Space

Session 4 - Organization

Session 5 - Getting Student's Attention

Session 6 - Arrival Routines

Session 7 - How to Play

Session 8 - Listening

Session 9 - Rules

Session 10 - Learning and Valuing Student Names

Session 11 - Building Relationships

Session 12 - Pandemic Specific Support
In addition to these 12 sessions, teachers will also learn proven ways to introduce expectations and establish routines and feel confident in implementing classroom rules!

⭐️ Exactly how to introduce play areas and expectations
⭐️ The exact attention getters we use in our classrooms
⭐️ Specific activities to learn student names and build relationships
⭐️ What to do for your entire week day of school


Setting Up Kids for Success also gets deep into strategies, lessons, and activities for different focus areas including:
🌟 Active listening
🌟 Valuing student names
🌟 Creating classroom rules
🌟 Building student relationships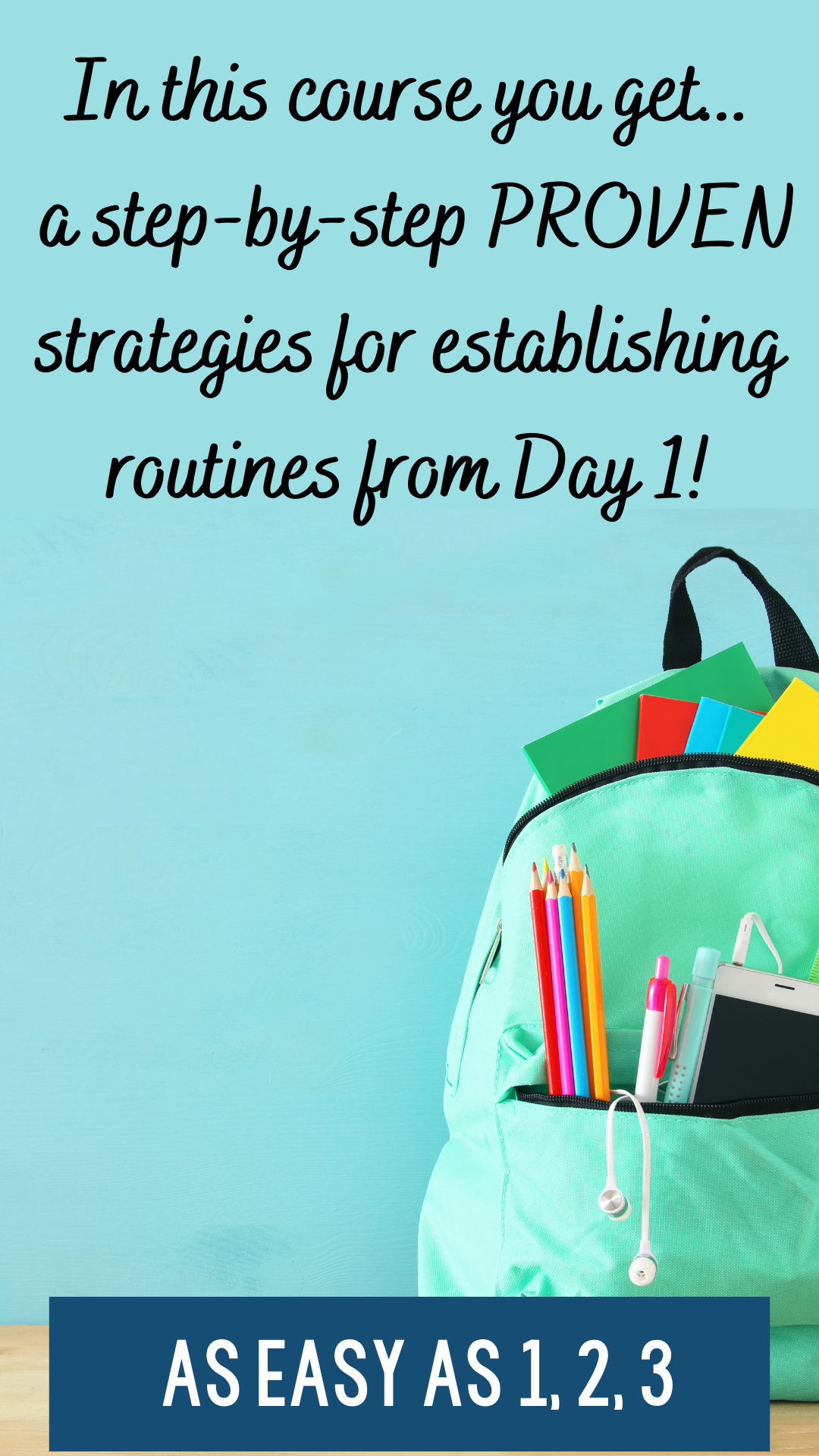 This course is JAM PACKED with EPIC BONUSES:

🥳 Active Listening activities, read aloud suggestions, and teaching points
🤩 Listening social story
🥳 Active Listening visual reminders
🤩 5 Day Name Unit with lesson plans and activities
🥳 First TWO Weeks of Kindergarten complete with lesson plans, activities, and parent letters
🤩 First Week of First Grade complete with lesson plans, activities, and parent letters
🥳 Full Anxiety Unit complete with lesson plans, activities, and parent letters that you can use in sequence or pull from as needed to support anxiety in children
🤩 Certificate of Completion



On top of all of this, you will learn specific strategies for
⭐️ Setting up your classroom for independence
⭐️ Organizing your classroom supplies
⭐️ How to get your students' attention from day 1 and beyond


And that's not all! You also get an entire module on how to create and establish classroom rules! We teach you 
🌟 Words to avoid
🌟 How to rephrase your students ideas into positive language
🌟 How to handle when rules are not being followed


AND you get access to all of this…. For life! Any future lesson changes or edits… you get… for free!


When you sign up today – you get access to all of these amazing lessons and strategies immediately. So you can start implementing these strategies with your children the right way, right away! No matter when your first day of school is!

Setting Up Kids for Success is your key to, not just a successful start to the school year, but the entire school year as well! You'll learn how to build strong relationships with students, easily get their attention, establish classroom rules, and set up your classroom environment for independence!

You'll learn that in order for your classroom to run itself, you need to start the year purposefully and systematically teaching students the expectations and routines… and we teach you exactly how to do this in our new course!



Whether you're a new teacher just starting their teaching career, a teacher changing grades, classrooms or schools, or you're a teaching expert who wants a refresher on starting the year out right after seeing more needs than ever before, this course will be perfect for you.


Inside of Setting Up Students for Success you'll get the foundational knowledge and support you need to be confident in setting up your classroom and establishing expectations and routines. You'll get the exact strategies that we use to get students' attention, launch play areas, teach students to listen, create student rules, and so much more!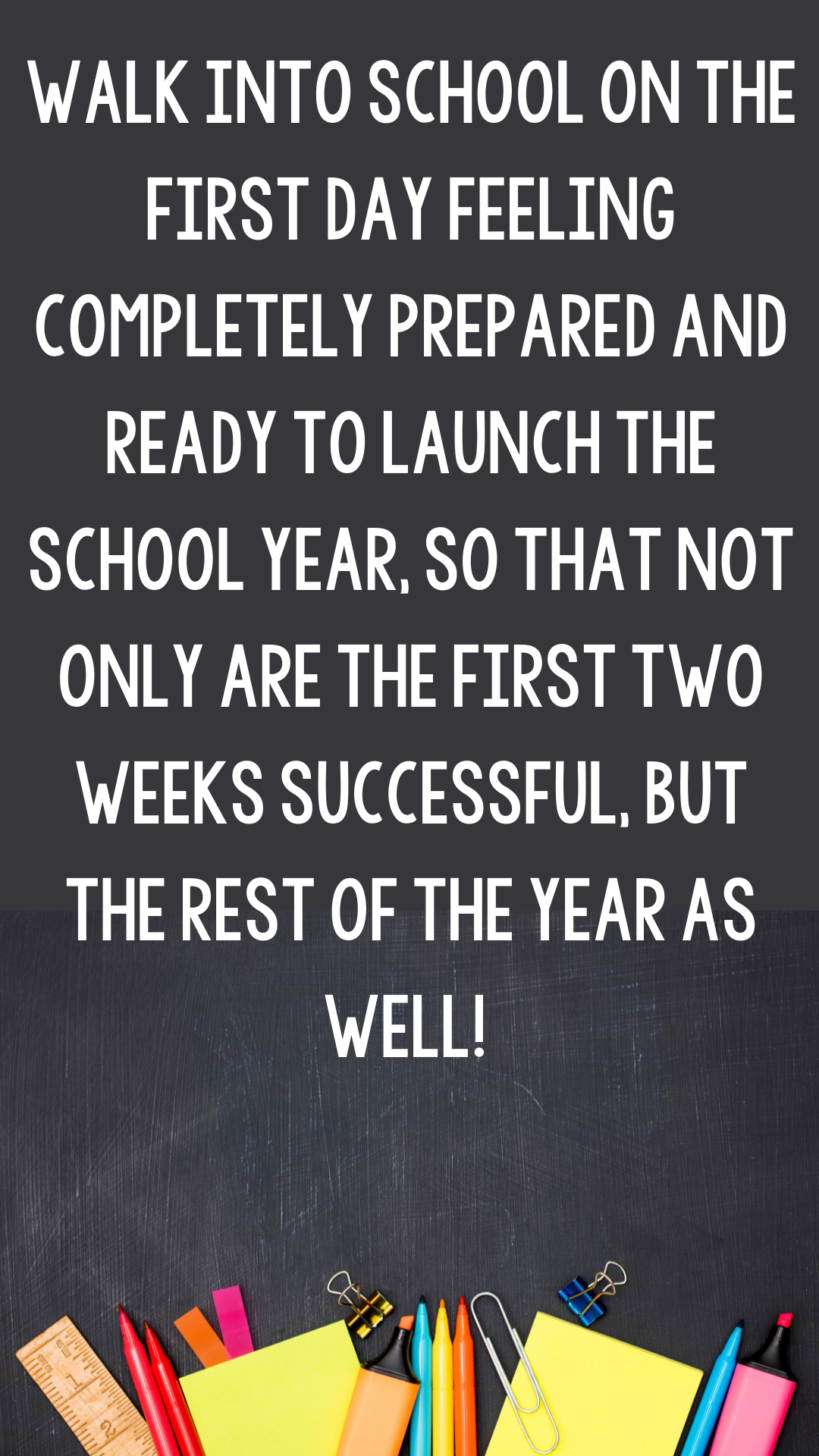 Are you ready to see what you can accomplish by the end of the first day of school? What about the whole school year?

Are you ready to feel confident the second you step foot in your classroom on the first day of school?

Are you ready to establish classroom routines and expectations that will last the whole school year?

Are you ready to build positive relationships with each child and support children in building relationships with each other?

Then you are ready to join us in Setting Up Kids for Success!


🤩🥳 I'm ready to join Setting Up Kids for Success and start learning proven strategies TODAY! 🥳🤩
About Us
Join Sara and Zeba to learn about how to set up your students for success! Sara is currently a behavior analyst, early childhood education adjunct professor, and former kindergarten and first grade teacher of 9 years. Zeba, a current classroom teacher, has taught kindergarten through third grade for 8 years. She founded a curriculum resource company several years ago called Kindergarten Cafe.

FAQs
What age group is this course designed for?
This course is designed for educators, caregivers, and administrators of preschool through first grade, but all early childhood educators can benefit from it!
What bonuses are included in the course?
Participants will receive bonus materials throughout the course that correspond to the lessons. These bonuses include activities, visual aides, an early literacy book, and a parent letter about teaching students to listen. Another bonus is 5 day Name Unit including lesson plans and activities. A third bonus includes a full curriculum for anxiety to use in full or to pick and choose activities from. Finally, participants will receive a full week of lesson plans and activities for the first week of kindergarten and first grade! These bonuses alone are worth over $30!
When does the course start and finish?
The course starts when you enroll and never ends! It is a completely self-paced online course - you decide when you start and when you finish.
Do I have to complete and turn-in work during this course?
No, all of the work you'll be doing will be for your role as an educator and/or leader. While there are some quizzes in the sections, these quizzes are just for your benefit to check in on your understanding. They are not graded.
How long will it take to complete the course?
While the course covers a large breadth of information in the 8 sections. There are 12 lessons, each video lesson is between 5-10 minutes long. Many of the lessons have options for going deeper with the resources.
Do I receive a certificate of completion?
Yes, upon completion of the course (remember it is self-paced) you'll receive a Certificate of Completion!
How long do I have access to the course?
How does lifetime access sound? After enrolling, you have unlimited access to this course for as long as you like on any and all devices you own. As we update and improve the course over time, you will automatically get access to all the edits and newer versions too!
What if I am unhappy with the course?
We would never want you to be unhappy! If you are unsatisfied with your purchase, contact us in the first 30 days and we will give you a full refund.